Welcome !
---
We are happy to welcome you to our virtual cellar. You can find our different wines as well as information on our history and our way of working.
Savoy wine White (Jacquère, Rousette, Marestel), Red (Gamay, Mondeuse) and Rosé Independent winegrower in Jongieux. Online purchase and open cellar!
Discover our Savoy wines
Discover us in video (French)
Antoine, Chantal et Jean-Pierre Bernard.
Actuality
---
You can come and meet us at our shows at:
Discover the webseries on the Jongieux cru : Jongieux la côte des vignerons
Image of the week
---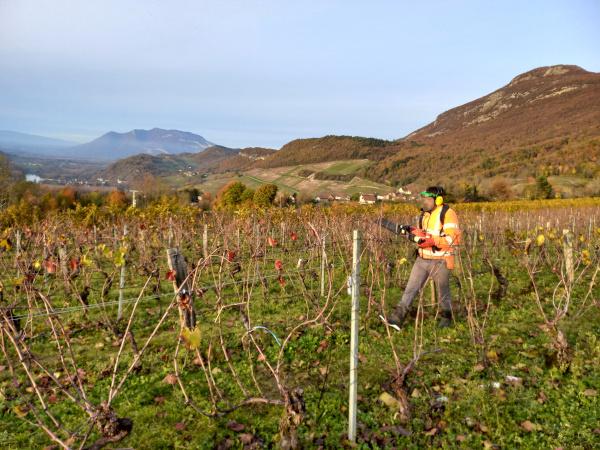 Prétaille au taille haie.
Our Domain certified in High Environmental Value
---
For us, respect for nature, biodiversity, natural cycles and our environment are important. Since 2006, our Domain has been certified in Reasoned Agriculture; it is now recognized in High Environmental Value. 5 grape varieties are grown on the 13 hectares of vines that we cultivate in the towns of Jongieux and Billième in Savoy - France : Jacquère, Altesse, Chardonnay en blanc; Gamay and Mondeuse in red or rosé. All these Savoie Jongieux wines are fruity, mineral and straightforward. In our family, the vine has been cultivated for a long time. Antoine is the 7th generation of winegrowers to work on these lands passed down from father to son and daughter. A heritage legacy enriched over generations of know-how, love for our land, vines and wine, and the desire to always do better.
The slopes of Jongieux: a site classified as national heritage
---
The town of Jongieux, located between the river (the Rhône) and the mountains (Mont Charvaz, 1,158 m altitude) faces south-west in Savoy - France. Its gently sloping slopes, with poor limestone soils, range between 350 m and 450 m in altitude. They take full advantage of the benefits of the sun and have always been a favorite place for vines. Shaped by generations of peasant winegrowers, the picturesque and landscaped landscapes were registered in July 2010 as sites classified as national heritage. A Saint Jacques de Compostelle hiking trail and the GR9 cross Jongieux.
Delivery
---
Price: 30 euros for delivery in mainland France and free delivery from 30 bottles purchased. Combination possible. For overseas shipments, please contact us.